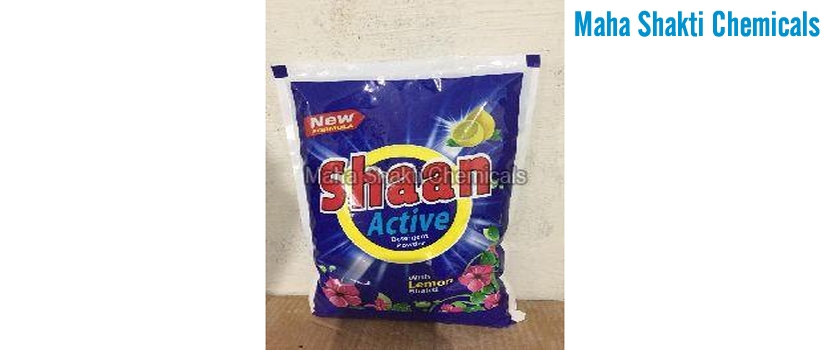 Washing clothes is a part of the daily routine and fundamental for healthy living. The detergent powder is a popular choice when it comes to cleaning clothes, as they add fresh fragrance and wash away any harmful substance that has come within contact with the clothes. The detergent powder is made by using synthetic surfactant and another chemical to help improve its surfactant efficiency. The increased efficiency of detergent powder has made it a highly popular product amongst the customers compared to the Detergent soaps available in the market space.


Detergent powders are available in various types, brands, and price ranges. You can easily buy a detergent powder that meets your needs in terms of quality and price online and from stores. Several Shaan Activate Detergent powder suppliers in Indore offer the quality product at attractive prices to their customers. Listed below are a few advantages of using the Detergent powder for your daily washing of clothes.


High Performance
Detergent powder comprises ingredients such as magnesium, etc, that help soften the water and avert soap scum while washing clothing items. These ingredients act as builders and help break substances like grease and oil into smaller parts, making it easier to clean clothes. Using Detergent powders like Shaan Activate Detergent powder help increasing the clothes\' shelf life by eliminating stains and marks from the clothing item.


Cost-Effective
Another benefit of using the Detergent powder for daily washing is that it is very cost-effective. Many brands of detergent powders are available in the market with a variety of price range that allows you to choose a detergent powder that best suits your needs within your budget. You can even compare prices online to get good deals and discounts on bulk purchases.


Do Not Have Harsh Chemical
Unlike Detergent soaps, the detergent powder does not contain the harsh chemical. These chemicals can not only damage your clothes but can also be harmful to your skin as clothes come directly in contact with your body. The good quality detergent powder is safe for use and free of any harsh chemicals that could lead to skin allergies.


Ideal Of Different Water Qualities
Different parts of the world experience different water qualities. Detergent powders contain water softening mediums that help make them ideal for a variety of water quality. Shaan Activate detergent powder could be a good choice for washing clothes if your house has a hard water supply.


Saves Water
Another good quality of using the detergent powder for cleaning clothes that it helps save water as clothes can be rinsed easily. The detergent powder is known for creating less foam therefore, you require less water to rinse clothes thereby saving energy and resources at the same time.


Eliminates Tough Stain
Detergent powders are renowned for their ability to scrub off tough stains with their roughness. If you someone who is employed for manual labor, the detergent powder can come to your aid as they help to get rid of difficult grease and stains or toughest stains easily without extra effort or burning a hole in your pocket. You can use the detergent powder in both washing machine and cleaning by hand.


It is also important to remember that amount of detergent powder to be used also varies depending upon the laundry size, the fabric of clothing items, and the washing method. The excess use of detergent powder can lead to soapy residue on your washed clothes while if you use a low quantity of detergent powder the clothes might not be cleaned properly. The proper use of detergent powder will allow you to have clean and fresh clothes every time.


However, using the detergent powder in the right way is vital to get the best result, and therefore, you must read the label attached to the detergent powder to get a clear idea of its proper use. Different quantities of detergent powders are used for different water types to get the desired results. Various detergent powder suppliers offer a discounted price and free delivery on bulk orders to their customers.